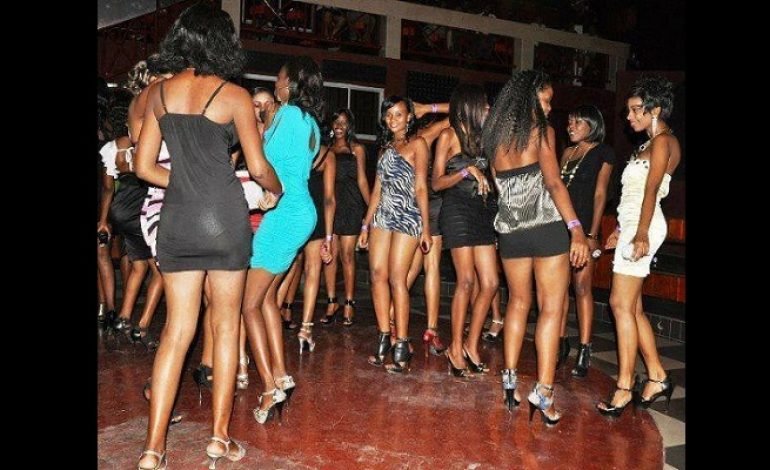 The constable behind the counter could have been heard yelling for the umpteenth time towards the direction of the cell, "Will you keep it quiet there?!"
He was getting really impatient. He hated that he'd been left alone by his colleagues yet again, manning the station while the other guys went out on a patrol. It must have been about 11:15pm and they only returned an hour earlier to bring in some young girl they claimed was a prostitute. They left the station again almost immediately, leaving the lousy girl to disturb the peace with her loud protests.
In the short course of the time she'd been there, she had appealed, made threats, bawled and screamed to be let out, blown hot and cold, still protesting she'd been consummately mistaken. He had tried to block out the sound but she was not letting up.
Her loud shrieks were becoming intolerable by the minute and all he wanted to do was go in that cell and shove something hard in her mouth to gag her effectively.
He giggled devilishly at the mere thought as his hand moved down towards his crotch. Now that was something hard he could stuff out her mouth with, perhaps this would shut the bitch up for good.
He tried to shake off the exciting thoughts but the girl had now begun crying, denying that she was a prostitute. He sighed, going to stand
in front of her cell. He took in her cheap-looking spaghetti-strap top and her short tight skirt. Her makeup was so over the top and colourful it was almost a ridiculous spectacle. Her lips were full and excessively bepainted with red lipstick and she had on a pair of black heels. Her whole whorish appearance gave her away for no else than a prostitute.
As soon as he came over to the front of the cell, she tried persuading him out of thoughts she was a partaker of the oldest profession. "Sir, I swear to you, I am not an ashawo, I'd barely left work when your guys…"
"Shut up! Harlot! You just dey come back from work? Na so girls dey dress go work? Since when? Stupid girl."
She looked down puzzled like she forgot what she was wearing. "Please sir, believe me," she pleads again, looking back at him.
"If you no quiet ehn, I go give you something wey go make you shout weh weh," the constable began to threaten, fully irritated now.
She clamped her mouth shut under the rebuke and saw him turn around as to leave when she grabbed the bars of the cell and began shaking it like one posseted with a violent spirit.
"OK, this is it," the constable thought to himself as he turned about again and brought out the key to the cell. There sparked a look of glee in the girl's eyes, thinking now no doubt her protest was snatching her a release, but the constable simply opened the cell and shoved her roughly in.
She goggled in shock but he couldn't care less. He pushed her against the wall and lifted her short tight skirt.
He felt her flesh underneath and saw she was wearing a g-string. She could hear him groaned something as his palms began rubbing her smooth soft bare ass.
The young girl tried to push him off. "Okay, okay, O.C, if I do, you go gree release me?" He returned a groan again and she took it for a yes.
Her hands moved to the button of his uniform trousers. He left her go, eager now to see what she was about. She unbuttoned and unzipped him, pulling his trousers down,
immediately releasing his hard cock as he had no boxer-shorts on underneath. She wrapped her hand
around his cock and began to stroke, causing it to grow harder and harder. He was quite the monstrous one, she admitted in mind.
When she saw him well aroused, she knelt on a knee in front of him and took the hugeness of his shaft in her mouth.
He exhaled another sharp groan, pushing his hand against the wall as she circled the tip of his cock with her full, red lips. She began to bob her head back and forth, sucking his cock with consummate skill. His dick was soon so deep in her mouth that he could feel the tip hitting the back of her throat. She continued sucking it until he grunted for her to stop. He craved lodging his timber in some other hole at this point.
He pulled her up on her feet and turned her around so she was bent butt out facing the wall, with legs spread apart. He lifted her skirt
and shifted the string of panties between her ass. Putting some spit on his hand, he lubed his cock until it was glistening then roughly shoved his cock into her waiting cunt.
She began screaming her head off in no time as he went mercilessly in and out of the whore's hole with his humongous cock. She was gyrating her hips, granting him passage him to go even deeper into her, her wetness drenching his hardness. It was amazing.
His cock was pounding her pussy so hard till he began gasping for dear life. He fucked her again and again until he felt the familiar contraction and exploded into her cunt.
As he pulled out his cock, he could see his cum dripping out of her elastic hole. He felt triumphant just watching the spectacle of it.
The whore was elated to hear the man permit her to go. The constable apparently had had his fill of her trouble and pleasure.
His colleagues, men as himself, would surely empathize, and lay no blame.
Author's Note:
Get our products now from our archive at surukang.com for your pussy-tightening, tummy-flattening, pink lips, dick enlargement, hips and butt enlargement, etc.
Trackbacks and pingbacks
No trackback or pingback available for this article.